Din cauză că recent am recitit și revăzut High Fidelity, m-am decis să fac o serie de posturi bilunare (în principiu pe 5 și 25 ale fiecărei) cu top cinci piese pe un subiect total întâmplător.
E o chestie foarte subiectivă, dar când n-o fost muzica așa?
Ah, și îs curioasă dacă și voi aveți piese care coincid subiectului pe care îl aleg. Chiar daca nu îs fix 5. Așa că nu vă sfiiți
Și pentru că de o săptămâna e o vreme superbă afară și chiar se simte că o venit primăvara, primul top 5 îl dedic pieselor care mă fac instantaneu să mă gândesc la primăvară, chiar daca le ascult în timpul celei mai crunte ploi de toamnă sau în mijlocului unui frig crunt de ianuarie.
top 5 #1: spring on me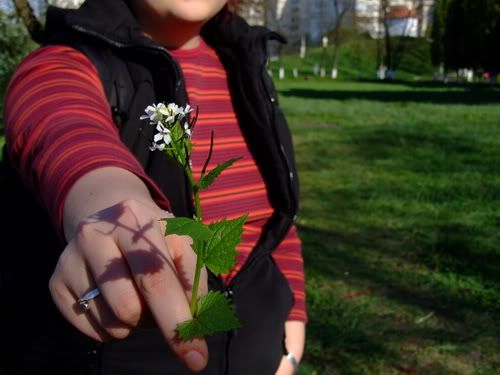 yours truly, poză de Diana
O arhiva cu toate piesele, aici
1. Florence + The Machine – Rabbit Heart [Raise It Up]
Prima dată când am auzit-o o fost cu clipul atașat, care mi-o dus imediat gândul la sărbătoare câmpenească de celebrare a primăverii. Dap, n-am fost eu f atentă la versuri atunci. Dar cu feelingul ăsta mi-o rămas imprimată.

2. Jann Arden – Good Mother
Deschid geamul, trag o gură de aer în piept, e prima dată când nu mi se oprește în gât.

3. dredg – Ode To the Sun
It's gone from light to grey
But I'll move those clouds away
Letting the sun shine through
nuff said
4. Bush - Warm Machine
Un tricou, un pulover peste, fără geacă de iarnă sau mănuși. Here comes the warm machine!

5. Lampshade - New Legs
Gata, o trecut iarna, ieșim din amorțeală, mersul pe jos/plimbatul îs iar o plăcere.
Teach me how to use my legs
I'd like to go for a Sunday walk